On January 28, 2021, members of Nevada's legal community will be addressed by Chief Justice James W. Hardesty of the Supreme Court of Nevada during the Clark County Bar Luncheon sponsored by Bank of Nevada, Dillon Health, and Prominence Health Plan. The event will be held online via video conference.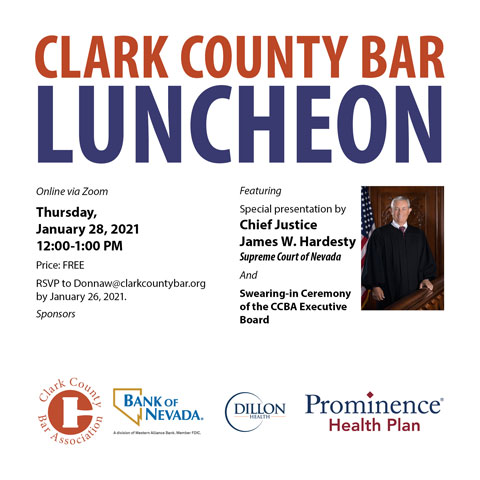 During the event, Chief Justice James W. Hardesty will make a special presentation about the administration of justice in Nevada. Additionally, Chief Justice Hardesty will administer the oath of office to officers and members of the CCBA's executive board.
This event will be open to attendance by all members of the Nevada legal community; however, admission will be limited to persons who RSVP to the CCBA by the published deadline.
RSVP to the Clark County Bar Association no later than January 26, 2021.
For more information and RSVP form, see https://clarkcountybar.org/event/clark-county-bar-luncheon/.