The Five Things issue of the Clark County Bar's journal Communiqué (Jan. 2023) is now available.
The Five Things issue offers an author the opportunity to highlight five things relevant to their chosen topic. Authors are to be quick, to the point, and to keep the length of their piece to less than 500 words. This restricted format is designed to keep the page count in check for the first issue (January) in our budgetary year. It has also proven to be a popular challenge for authors. They must choose only five things, stay focused, and address the topic within the restricted word count.
The issue features content written by members of the bar for members of the bar. See below for a list of featured articles, columns, and highlights.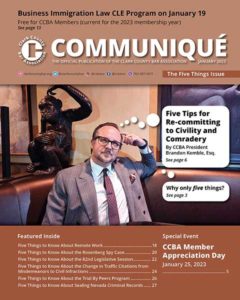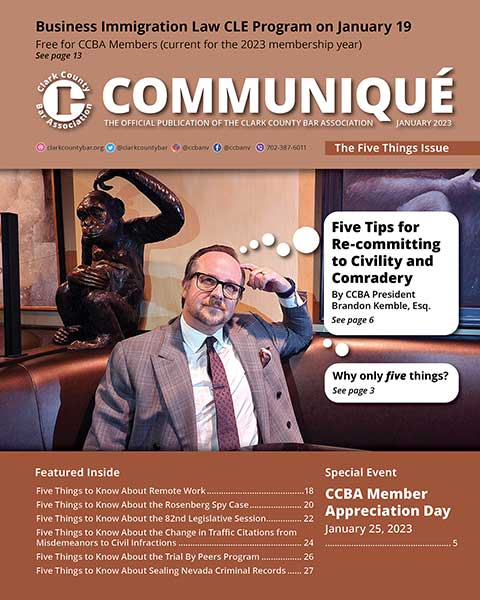 Feature articles
"Five Things to Know About Remote Work" By Jennifer K. Hostetler, Esq. and John McCormick-Huhn, Esq.
"Five Things to Know About the Rosenberg Spy Case" By Tamara Beatty Peterson, Esq. and David Astur, Esq.
"Five Things to Know About the 82nd Legislative Session" By Shea Backus, Esq.
"Five Things to Know About the Change in Traffic Citations from Misdemeanors to Civil Infractions" By Lisa M. Szyc, Esq.
"Five Things to Know About the Trial By Peers Program" By Doreen Spears Hartwell, Esq.
"Five Things to Know About Sealing Nevada Criminal Records" By Elizabeth S. Carmona, Esq.
Columns
CCBA President's Message: "Five Tips for Re-committing to Civility and Comradery" By Brandon Kemble, Esq.
View from the Bench: "Five Ways to Make a Positive Difference" By Judge Jerry Wiese
Pro Bono Corner: "Five Reasons to Take a Pro Bono Case Today" By Michael Wendlberger, Esq.
"Become a CASA Volunteer in Clark County" By Mary Ann Price
Highlights
CCBA Member Appreciation Day Set for January 25, 2023
40 Year Club Bar Luncheon Highlights
Clark County Bar Leaders Elected for 2023
Blanket the Homeless 2022 Highlights
Business Immigration Law CLE Program Free for CCBA Members on January 19, 2023
Business Court Bench-Bar Meeting
Civil Bench Bar Meeting
Las Vegas Justice Court Administrative Order #22-08
Las Vegas Justice Court Administrative Order #22-09 – Amended
New Rules and Forms for Practice and Procedure at Federal Courts
Professional Portrait Session
Community Outreach Spotlight Lawyer in the School Project Volunteers Needed
The Communiqué is primarily a printed magazine format published by the Clark County Bar Association (CCBA). Magazines were mailed in December 2023. A digital version is available for download (PDF file at 3.2 MB) on the CCBA's website. See https://clarkcountybar.org/wp-content/uploads/2023/01/2023-1-Communique-Final-lowres.pdf.