Those following the most recent Nevada legislative session might have noticed several bills concerning residential landlord-tenant matters passed out of both houses; however, the governor vetoed nearly all of them. Nevertheless, practitioners should be aware of several recent developments relating to rental housing.
Landlords prohibited from passing on fees for essential repairs.
Effective July 1, 2023, SB381 amended NRS 118A.290 to prohibit landlords from requiring tenants to pay any fee or other charge (including home warranty deductibles or copayments) to perform repairs, maintenance tasks, or other work which the landlord has a duty to perform to maintain the unit in a habitable condition. Therefore, a landlord may not pass on fees or charges for maintenance or repairs needed to provide proper plumbing, hot water, electricity, heating, air conditioning, and other items as enumerated in NRS 118A.290(1). However, this prohibition does not apply if the repairs are necessary to remedy a condition caused by the tenant, members of the tenant's household, or their guests.
Certain home sale-leaseback arrangements exempt from NRS Chapter 118A.
Effective July 1, 2023, SB223 amended NRS 118A.180 to exempt home sale-leaseback arrangements from NRS Chapter 118A, which governs residential landlord-tenant relationships, if the occupancy is for a period of no more than 90 days and the occupant is the seller. SB223 also relocates provisions concerning an existing tenancy where there is a voluntary transfer or sale of the property from NRS 40.255 to a new section in NRS Chapter 118A.
AB486 expired on June 5, 2023.
In 2021, the Nevada Legislature enacted AB486 to establish an eviction mediation program and require certain actions for summary eviction to be stayed where the tenant asserts as an affirmative defense that they have a pending application for rent assistance. These provisions naturally expired on June 5, 2023.
Two new rent assistance programs available to aid tenants on fixed income or facing a temporary hardship.
With pandemic assistance programs winding down, Clark County Social Services launched two new rent assistance programs earlier this year: Fixed Income CHAP and Eviction CHAP. Tenants on a fixed income facing eviction due to non-payment of rent following a rent increase in the 12 months prior to applying for assistance may be eligible for Fixed Income CHAP, which can provide financial assistance to prevent eviction and maintain the tenant's housing for a period of time. This program is not a permanent subsidy, but instead provides a reprieve to vulnerable residents with limited affordable housing options. Tenants facing eviction for non-payment of rent due to a temporary hardship may be eligible for Eviction CHAP, which can provide a one-time payment to bring the tenant current on their rent. Clark County residents needing assistance can apply for these programs at https://chapportal.clarkcountynv.gov. Additionally, the Las Vegas Justice Court has established an eviction diversion program to help identify tenants who may be eligible for assistance and connect them with services. LVJCLRP 6.8.
Las Vegas Justice Court requires parties to summary eviction proceedings to use Civil Law Self-Help Center forms.
As amended in February 2023, the Las Vegas Justice Court Local Rules of Practice require landlords pursuing summary eviction to use the surrender and eviction notices and complaint forms approved by the court and made available to the public on the Civil Law Self-Help Center website at www.civillawselfhelpcenter.org. LVJCLRP 6.2(f)(1), (3). Likewise, a tenant contesting a summary eviction must use the court-approved tenant's affidavit in opposition to summary eviction form provided by the Civil Law Self-Help Center. LVJCLRP 6.2(f)(2). Failure to use the approved surrender or eviction notices may result in the dismissal of the case, and non-conforming complaints or tenant's answers may be stricken. LVJCLRP 6.2(j)-(l)
About this article: This article was originally published in the Communiqué, the official publication of the Clark County Bar Association, (Aug. 2023). See https://clarkcountybar.org/about/member-benefits/communique-2023/communique-august-2023/.
About the author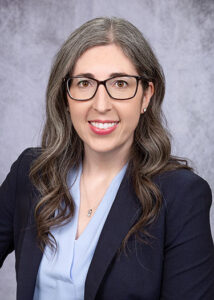 Morgan F. Shah, Esq. serves as Director of Community Engagement at Nevada Legal Services, Nevada's only statewide nonprofit legal aid organization providing free civil legal assistance to low-income residents in every county. Tenants can request legal help by completing an intake application online at www.nevadalegalservices.org or calling the nearest NLS office.
© 2023 Clark County Bar Association (CCBA). All rights reserved. No reproduction of any portion of this issue is allowed without written permission from the publisher. Editorial policy available upon request.