Thousands of jury trials have been delayed since pandemic-related restrictions started in March 2020, but normalcy is returning. I was recently able to participate as the presiding judge in a jury trial and experience the pandemic-induced restrictions first-hand.
The courtroom was my home throughout my legal career, first as a law clerk, over thirteen years as deputy district attorney, and finally twenty years as a district judge. My career changed when I was appointed to the Nevada Court of Appeals. This position has many challenges but it has been quite satisfying. However, I had to give up my love of interacting with attorneys and litigants in the courtroom and assisting victims of crime. Most of all, I lost contact with our dedicated citizens who serve on juries, just like all trial judges in Nevada.
The COVID-19 pandemic stopped jury trials. However, cases did not disappear; rather, backlogs grew as resolutions slowed and jury trials became virtually non-existent, even when criminal defendants invoked their right to a speedy trial. Fortunately, the situation is changing as jury trials are resuming.
Recently, Judge Cassandra Jones asked me if I could preside in justice court in Minden over a domestic battery jury trial commencing in two days. Judge Jones, a close friend, had to leave town for a family emergency and the parties wanted to proceed. The Supreme Court of Nevada ruled in 2019 in Andersen v. Eighth Judicial District Court that misdemeanor domestic battery is a serious offense that mandates the right to a jury trial. The Supreme Court also decided that the Andersen rule applies retroactively. See Hildt v. Eighth Judicial Dist. Court, 137 Nev., Adv. Op 12, _ P.3d _ (March 25, 2021).
My schedule was open so I said yes to Judge Jones. The justice court had already established safety protocols for court personnel and the public, including health screenings, social distancing, masks, and disinfectant cleaning. The procedures worked, and we were able to pick the jury in one morning—despite going through voir dire twice because we had separate panels of prospective jurors due to the limited size of the courtroom. The trial lasted one day; the jury found the defendant guilty of battery but not domestic battery, even though the victim and the defendant previously lived together and had a child, demonstrating the uncertain outcome of any jury trial.
Clark County district courts have also resumed jury trials. Safety protocols are in place, but not all courtrooms can safely accommodate jury panels. The Las Vegas Convention Center is used for civil trials and the Regional Justice Center for criminal trials. Clear masks are now available for witnesses. Importantly, Chief Judge Linda Bell informed me, and I saw myself, that the public is willing to serve as jurors and they are not using the pandemic as an excuse to avoid jury duty. Lawyers are also recognizing that we can again safely engage in jury trials. My advice: try to settle your cases but plan on being back in court. For more information see: http://www.clarkcountycourts.us/ and https://www.clarkcountynv.gov/government/departments/justice_courts/jurisdictions/henderson/covid-19.php.
About the author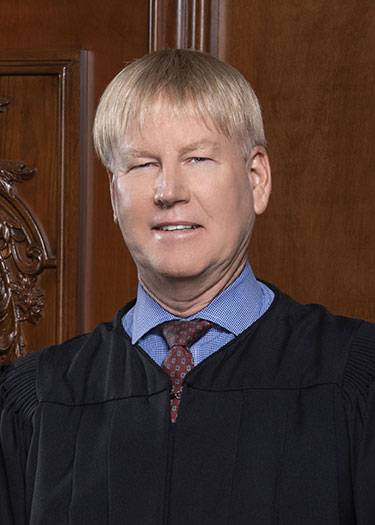 Chief Judge Michael Gibbons was appointed to the inaugural Nevada Court of Appeals by Governor Brian Sandoval in 2014 and was elected in 2016. He previously served for twenty years as a district judge.
About this article
This article was originally published in the "Law Practice Management" issue of Communiqué, the official publication of the Clark County Bar Association, (May 2021). See https://clarkcountybar.org/about/member-benefits/communique-2021/communique-may-2021/.
© 2021 Clark County Bar Association (CCBA). All rights reserved. No reproduction of any portion of this issue is allowed without written permission from the publisher. Editorial policy available upon request.