Judge Natalie M. Cox became an excellent addition to the bench when she took her oath on January 27, 2020, as the newest bankruptcy judge appointed to the United States Bankruptcy Court for the District of Nevada. She exhibits empathy, efficiency, and a practical approach in running her courtroom while presiding over complex bankruptcy cases.
Originally from Kodiak, Alaska, the Judge considers Nevada home, where she lived for 18 years. Prior to her return to Nevada, she spent five years practicing in Delaware and Tennessee in prestigious positions that provided valuable training for her appointment to the bench.
A basketball scholarship led Judge Cox to Austin Peay State University in Clarksville, Tennessee where she played on the Lady Gov's first women's team to appear in the NCAA tournament, as well as the women's softball team. She graduated in 1997 with a Bachelor of Arts degree, summa cum laude. In 2001, Judge Cox earned her juris doctorate, cum laude, as part of the charter class at the University of Nevada, William S. Boyd School of Law.
Judge Cox started her legal career in Las Vegas in 2001 on the other side of the bench where she served in private practice in various forums. In 2001, Judge Cox began her career as a commercial litigation and bankruptcy attorney at what was then, Jolley, Urga, Wirth & Woodbury. As her skills sharpened, she became a partner at Kolesar & Leatham, Chtd., a position she held for seven years.
From June 2015 until she joined the bankruptcy bench, Judge Cox served as a trial attorney in both the Wilmington, Delaware, and Nashville, Tennessee offices of the U.S. Trustee. As Assistant U.S. Trustee in the Nashville office, she supervised the administration of bankruptcy cases and private trustees while promoting the integrity and efficiency of the bankruptcy system for the benefit of all stakeholders, which included debtors, creditors, and the public.
With one year under her belt and with the backdrop of the COVID-19 pandemic, Judge Cox's time on the bench has been very different from what she anticipated. She has yet to hold a hearing in her courtroom. Most of her hearings have been held either telephonically or via Zoom from either her home office or in chambers. She looks forward to the day when she can see the attorneys and parties in person.
With telephonic and Zoom hearings, it is inevitable that the parties will talk over each other or even the judge, and oftentimes counsel will respond out of turn or without recognition from the court. Judge Cox credits the attorneys with being very professional and flexible at those awkward times. Soon, the long pauses and accidentally muted arguments of counsel will hopefully be a thing of the past. Until then, Judge Cox encourages the parties appearing virtually to maintain decorum by presenting in a virtual courtroom, at a virtual podium, and wait for the judge to call on them to keep order in the proceedings.
When asked about developments in bankruptcy and what is trending, Judge Cox explained that the court is preparing for a wave of new bankruptcy filings after the eviction and mortgage moratoriums are lifted. The surge will likely be coupled with an increase in pro se bankruptcy filings. Judge Cox noted that she is currently presiding over three Subchapter 5 cases.
Now that she has had some experience on the bench, Judge Cox says that she has received requests asking her to share her pet peeves. She pointed out that she has been impressed with counsel who have appeared before her and is appreciative of their patience as she gets settled. When pushed to list her pet peeves, Judge Cox reluctantly shared that she is most aggravated when the parties do not follow the local rules, do not support their arguments with admissible evidence and pertinent points and authorities, seek ex parte relief when notice and a hearing are required, and do not provide proposed dates for a request for an expedited hearing. Judge Cox's advice is to put yourself in the shoes of the judge and consider the facts and law the judge needs to consider for ruling in your favor.
Without hesitation, Judge Cox revealed that what she enjoys the most about being a judge is the intellectual side of the bench, unraveling the hard cases, and researching interesting issues. She is looking forward to penning an opinion to offer guidance to practitioners. Judge Cox remarked that she has been assigned interesting cases; many involve multifaceted areas of the law, such as property law, multiple bankruptcy proceedings, and divorce proceedings–it is like living a law school exam every day. Bankruptcy cases have the best facts!
Judge Cox recounts a number of mentors in her career, namely former Nevada Bankruptcy Judge Bruce A. Markell, her previous law school professor, and attorney William Urga. Her gratitude includes the other Nevada judges who also have graciously mentored her as well as a fellow Alaskan, Chief Judge Gary Spraker.
While Judge Cox has not yet had a formal investiture, the Nevada bankruptcy practitioners have welcomed her and look forward to an in-person investiture to extend a sincere welcome home to Judge Cox.
About the author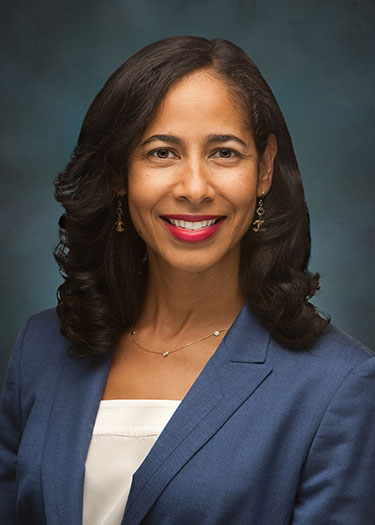 Ogonna Brown, Esq. is a partner in the Litigation and Bankruptcy practice groups of Lewis Roca. Her practice focuses on creditors' rights, secured party representation, commercial litigation, and bankruptcy litigation.
About this article
This article was originally published in the "Bankruptcy Law" issue of Communiqué, the official publication of the Clark County Bar Association, (April 2021). See https://clarkcountybar.org/about/member-benefits/communique-2021/communique-april-2021/.
© 2021 Clark County Bar Association (CCBA). All rights reserved. No reproduction of any portion of this issue is allowed without written permission from the publisher. Editorial policy available upon request.