The Civil Rights issue of the Clark County Bar's journal Communiqué (Feb. 2023) is now available. The issue features content written by members of the bar for members of the bar. See below for a list of featured articles, columns, and highlights.
Feature articles
Columns
Highlights
DICE CLE Series 2023
Please Support DICE CLE Series + a Nevada Bar Foundation Matching Challenge! (Published with the CCBA President's Message)
Family Law CLE Program Free for CCBA Members on February 23, 2023
Kalani Hoo named Chief Judge of North Las Vegas Justice Court
Judge Rebecca Burton Retired in January
Commission on Judicial Selection Adds a Fifth Vacancy to the Current Nomination Process
Pro Bono Opportunity
Want to promote your business?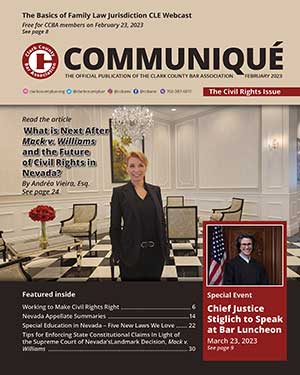 The Communiqué is primarily a printed magazine format published by the Clark County Bar Association (CCBA). Magazines were mailed on 1/30/2023. A digital version is available for download (PDF file at 3.4 MB) on the CCBA's website. See https://clarkcountybar.org/wp-content/uploads/2023/01/2023-2-Communique-Final-lowres.pdf