There are no more "absolute" eviction moratoriums in place. The pandemic affected everything, including the residential landlord/tenant market. With tens of thousands of people out of work, and a public health crisis, federal and state eviction moratoriums were enacted and were in place for over a year. They were all lifted mid-2021.
Rental assistance funding is still available. The federal government has allocated $400 million to Nevada alone to compensate landlords for lost rent and to keep tenants housed. There is over $200 million dollars left to distribute. Generally, the tenant must apply for the funds (in Clark County through the CHAP program although small landlords can apply directly.) Landlords must participate in the process and will be provided payment directly from the County.
Nevada's Eviction Mediation Program diverts cases from court and speeds up the delivery of rental assistance. The Nevada Legislature authorized eviction mediation and tasked the Nevada Supreme Court with the development of rules creating the program. Home Means Nevada is operating the program. Upon the filing of a new case, when mediation is elected, the mediators immediately notify Clark County so as to expedite the processing of rental assistance. The program was set up in weeks and is continuing to hone its operations. It is recognized nationally as a best practice.
To prevent mass evictions with hundreds of millions of dollars of rental assistance available, the Nevada Legislature enacted AB486. AB486 provides that a tenant may claim as an affirmative defense that the tenant has a pending application for rental assistance or that the landlord has refused to participate in the application process for rental assistance or accept rental assistance. The statute applies to all residential eviction proceedings where rent is in default, even where the notice is not in regard to past due rent (with exceptions for sale and nuisance). Part of the rationale for this statute was to ensure that huge arrears were cured and that tenants were not subsequently sued for thousands of dollars of rent when federal funding exists to cure the arrears. Federal funding not utilized reverts to the federal government.
Legal Aid Center of Southern Nevada joined countless others to assist those threatened with eviction. Since January 2021, Legal Aid Center has helped 50,000 frightened, panicked tenants trying to navigate how to stabilize their lives. Legal Aid Center automated the process of filing of answers with the invaluable support from Eighth Judicial District Court Chief Judge Linda Bell and Las Vegas Justice Court Chief Judge Melissa Saragosa. Thanks to the Court, additional windows were added to the Court to allow staff at the Civil Law Self Help Center and rental assistance specialists assist the public in a safe manner. Clark County and the City of Las Vegas have provided emergency funding to hire law clerks, advocates, and lawyers to assist in the effort. Despite this, it is an overwhelming endeavor, so anyone who wants to volunteer at an "Ask a Lawyer" or is willing to take a pro bono case to ease the burden on staff are urged to do so! Here's how to learn more: https://www.lacsnprobono.org/.
About the author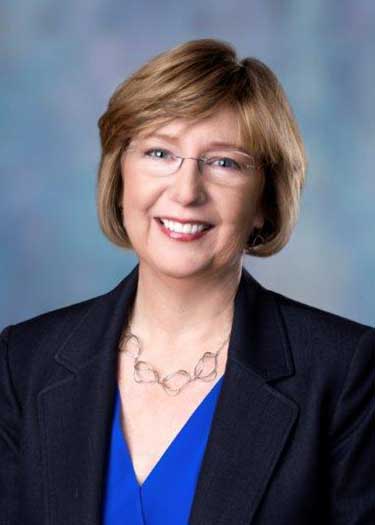 Barbara Buckley, Esq. is the Executive Director of Legal Aid Center of Southern Nevada, a nonprofit corporation, providing free legal advice, representation and advocacy for individuals who cannot afford a lawyer. Barbara also served as Speaker of the Nevada
Assembly, the first woman in the State's history to hold this position.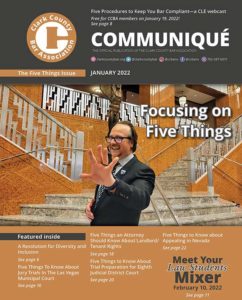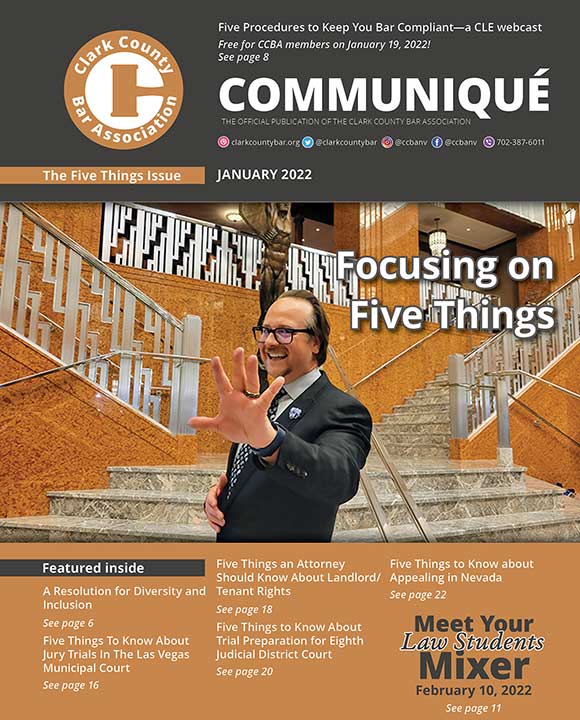 © 2022 Clark County Bar Association (CCBA). All rights reserved. No reproduction of any portion of this issue is allowed without written permission from the publisher. Editorial policy available upon request.