By Ogonna Brown, Esq.
Since 2020, I have had the honor of serving on the Nevada Gaming Commission and have had an opportunity to confirm first-hand that Nevada truly sets the gold standard for the gaming industry globally. Nevada's gaming industry has grown exponentially, contributing significantly to Nevada's economy. Over the years, I have observed several pro per appellants struggling at hearings involving appeals of the Gaming Control Board's Enforcement Division's denial of a gaming employee's application for registration. Each of them would have significantly benefited from the assistance of Legal Aid Center of Southern Nevada ("Legal Aid Center").
The administrative process can be difficult to navigate, and the stakes are high. In some instances, appellants must wait one year after the Gaming Commission issues an adverse decision before they are permitted to seek another hearing. Legal Aid Center has assigned gaming matters to attorneys over the years to assist Nevadans in need who are unable to afford representation in the gaming arena. Based on the statistics gathered by Legal Aid Center, the gaming cases assigned through Legal Aid Center in the last six years are as follows:
| YEAR REPORTED BY LEGAL AID | NUMBER OF GAMING CASES ASSIGNED AT LEGAL AID |
| --- | --- |
| 2023 | 2 |
| 2002 | 2 |
| 2021 | 5 |
| 2020 | 2 |
| 2019 | 2 |
| 2018 | 5 |
number of pro bono cases in re gaming matters assigned to attorneys by the Legal Aid Center table courtesy of ogonna brown
As you can see from these numbers, there is room for improvement. To improve access to justice in these administrative hearings, we need more referrals to the Legal Aid Center and attorneys volunteering their time to represent pro se individuals.
The need for pro bono gaming attorneys to assist applicants appears most pressing in two categories. First, during the pre-hearing stages of matters before the Gaming Commission, where pro se parties could benefit greatly from: (1) advice in the administrative process; (2) the appropriate time to present witnesses; (3) legal questions regarding the distinction between administrative hearings versus criminal hearings; (4) explaining the difference between arrests and convictions; and (5) assisting with discovery requests for disputes before the Gaming Commission. Second, pro se parties would benefit greatly from the assistance of pro bono counsel at hearings before the Gaming Commission to assist in making compelling and effective legal and factual arguments.
The administrative economy improves by assigning appellants in need to the Legal Aid Center to appoint pro bono counsel. A pro bono attorney reduces the frustration and misunderstanding attendant with pro per applicants with the board. The pro se applicants' stress drops when an attorney is by their side. These hearings have enormous consequences for the pro se parties involved; often, a person is fighting to change their life, chasing a promising future livelihood in Nevada's lucrative gaming. I write this article to encourage practitioners to refer pro se parties who could benefit from the assistance of Legal Aid Center in gaming matters.
About the author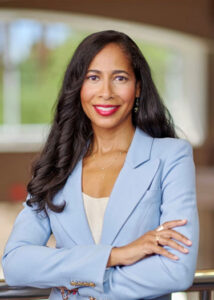 Ogonna Brown is an equity partner with the law firm of Lewis Roca in the firm's Litigation and Bankruptcy and Creditors' Rights practice groups. She has served as a Gaming Commissioner since 2020, and pro bono service is an important part of her practice and community service.
About the article
This article was originally published in the Communiqué (Nov. 2023), the official publication of the Clark County Bar Association. See https://clarkcountybar.org/about/member-benefits/communique-2023/communique-november-2023/.
© 2023 Clark County Bar Association (CCBA). All rights reserved. No reproduction of any portion of this issue is allowed without written permission from the publisher. Editorial policy available upon request.